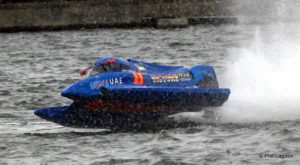 London 17.o6.2018
Another difficult weekend for Alex and the whole Victory Team.
Road uphill since Friday when the problems of the structure of the hull still give Alex problems throughout the day.
In the evening we decided to completely change the set-up, and other technical parts, and everything seems to be going well since the first free practice on Saturday morning.
Uphill, including waves and great gusts of wind even the qualifications, but where Alex comes out with a good Fourth place in Q1 and the first time in Q2.
Everything seems perfect, but at the exit for the Top Qualify, the wind strengthens and Alex can not find the perfect lap and the long-awaited Pole.
We are content with another "good" third time behind Chiappe, and with the Pole Position that goes to the Swedish Stark.
RACE:
Given the very small size of the race field, the wind, and the weather conditions are not optimal you decide to leave in yellow flag.
But, from the first moments we can see that Alex is always in trouble keeping his hull on the water, and already on the third lap he is overtaken by the Frenchman, Morin, the breaking of a horn during the fourth lap make all the Alex's hopes, the structure is no longer there, and it is almost impossible for him to keep the rhythm of the others, in fact he is also supported by Cantando and Anderson, he does not give up, and he fights even for a sixth position, against everything , but the exasperation of the boat's set-up and the continuous attempt to keep the rhythm of others, lead Alex around the 35th lap, to a big impact with an incoming turn wave, lose control, and his hull is overturned.
Race finished, no consequence for Alex but very bitter in the mouth for not having brought home any point.
Stark win 1, in front of Chiappe 2 and Morin 3.
Now they will be many decision take for the next race at Evian in France, in just 2 weeks, because Alex can not do wrong and  have to recover the train of the first.